Review of Folkwear Victorian Vest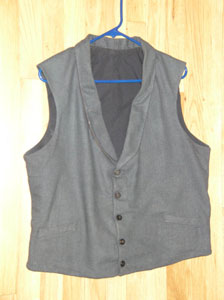 Front view shows roll collar. Notice there is
no notch in the collar as shows up on later vests.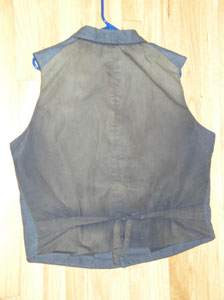 Back view shows the tie as I made it up and the
continuation of the roll collar. Collars on later
vests, like the ones you see on cowboy action
shooters, stop at the shoulder seam. For the
1830s the roll goes all the way around the neck.
Overview
The goal of this project was to make a roll collar vest appropriate for the 1830s. Overall it went pretty well and I would use this pattern again. I would recommend it to others, though maybe not for a first project.
I would give this pattern a rating of 3 out of 5. It is not too difficult, but designed for the modern tailor using a sewing machine.
How It Went
It went pretty well. It was a project that, until I pulled it all right side out and finished it, I didn't know how it was going to turn out. I ended up lengthening the pattern to fit me better and making the bottom of it squared off because I thought at the time that was a more common look for the 1830s. I also finished the adjustment in the back as a cloth tie rather than a buckle. I used a dark blue/gray wool for the front and black polished cotton for the lining and back.
The Best and Worst of It
I top stitched the belt tie in the back which meant I had to be extra careful with my stitch spacing. This was before I learned some tricks to even up my stitches and before I learned that the originals probably had a different type of tie.
Is it Recommended?
Yes, but maybe not as a first project. Folkwear patterns tend to be straightforward to make, but not as carefully researched as some of the other companies' patterns. This pattern was based on an 1850s example. You have to do your own research to add historic details for the rendezvous period. While I handstitched mine together, this is a pattern that would be able to have a lot of it machine stitched without it showing. Past Patterns now has a vest pattern from a mid-1840s source. This might be worth referencing for stitching details.
Hints and Notes
Research I've done since I made this vest would have me doing some things differently:
The buttons could be cloth covered, in the same fabric as the front of the vest. (As a vest wore out you probably would have seen the cloth worn off the wooden button molds, odd field replacements with mismatched buttons of bone or wood, or even a whang for a tie.) The dark horn buttons I used might have been OK but should have been four hole instead of two hole.
The inside lining should probably have been natural colored tight weave linen or cotton.
The back could have been a light tan, mid brown or even red linen or cotton, based on 1830s paintings of farmers and other country people by William Sydney Mount. How much of this would have been seen out West I don't know.
The adjustment ties on the back should have been two sets of cloth ties, one set three or so inches below the shoulder blades and the second set an inch or inch and a half above the bottom of the vest. These ties adjust a slit in the back of the vest that goes from just below the shoulder blades to the bottom of the vest. This is based on Mount's paintings and other period sketches, and I can't tell from them whether there's a gusset behind the slit. Period views that show the back of a vest are rare.
Fashionable originals from the 1830s would have had some padding in the chest area, although I don't know if a vest meant for work clothing would have had this. For fashionable vests that were meant to be washed regularly, the padding unbuttoned.
Just to muddy the water, some of W.S. Mount's 1830s paintings seem to show vests on country people with no collar at all.
Documentation Used
Catlin's painting of the AFC traders at a dog feast
Miller's drawing of Pierre reproduced in the Landry and Chronister article in

Book of Buckskinning VII

John Townsend's mention of "waistcoats" in his account of his trip West
Various reprints of tailor's guides from the 1820s – 1830s by R.L. Shep which use the term waistcoat while showing the pattern for what we would call a vest
Alternatives
Past Patterns — You'd have to retro the details to make this pattern 1830s, also the pattern has to be lengthened for people over 5'6"